- Testing burning quality
* Nero CD-DVD Speed graph (with NEC 2500A v1.07 DLBS)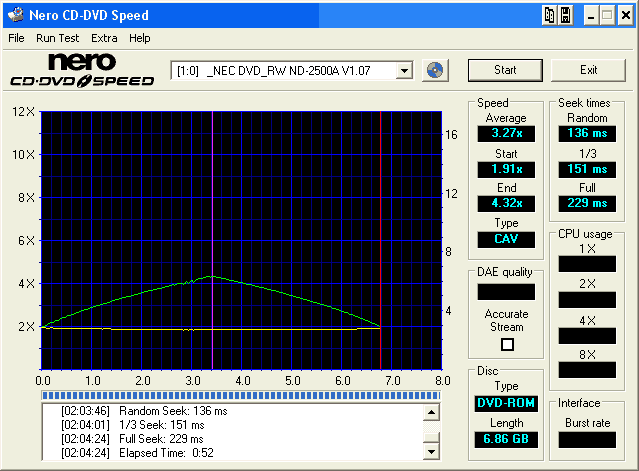 No problems here, the reading transfer graph is perfect.
* Nero CD-DVD Speed graph (with LiteOn 812S-> DRU700A)
The modded 812S->DRU700A drive, also reads the burned DL media without any issues.
* Nero CD-DVD Speed graph (with LiteON SOHD-167T)
This is where the problems started. The drive recognizes the burned media as 31.25GB sized

, which at least gives us headache. Notice that the DL burned media with the 2510A firmware was read correctly as supposed too (6.86GB). Below is the DVDInfoPro screenshot with media properties (perhaps we got the super violet recorder and didn't knew?

):
The transfer graph is smooth but the software halts when reaches the end point, since drive failed to recognize correctly the inserted disc, we had to restart PC.
Notice that during playback with PowerDVD v5.00, we noticed some glithces, movie started not from 0mins, but from 13mins, but after going back and fordward you could view the movie without any problem, the movie was there, it just seems sometimes the drive jumped it, we don't know if this issue comes from the used media/firmware/software!