cadoo

Posts: 6810
Joined: 8/1/2006
From: Serbia
Status:

offline

Info:

WhereIsIt is an application written for Windows operating systems, and designed to help you maintain and organize a catalog of your computer media collection, including CD-ROMs, audio CDs, diskettes, removable drives, hard drives, network drives, DVDs, or any other present or future storage media Windows can access as a drive.

Changes in 3.83:
Catalog tree view and categories tree view now support automatic horizontal scrolling when running in Windows Vista.

Progress bars throughout the program now support substates under Windows Vista, and will visually indicate when process is paused or canceled.

Changed the appearance of dragbars, for easier visual location. All resizable windows now include visible dragging grips, and dragbars react to mouse entering and leaving dragbar area.

The Back/Forward control now comes in several different sizes, which one is used depends on current screen DPI setting.

Reports exported to XML format now always use UTF-8 Unicode encoding.

Addressed several small memory leaks throughout the program and plugins.

Fixed a bug causing occasional random thumbnail corruption after multiple disk image updates.

Tweaked the PDF description plugin to prevent processing rare malformed PDF documents with recursive entities in an endless loop.

Removed option to disable multilanguage support, this is now always enabled as it takes care of a lot more than just translating visible text.

Fixed low quality of thumbnails imported from 8-bit colored PNG files.

Removed progress bars flickering in Windows Vista.

Tweaked error handling when trying to save catalog in a protected folder with insufficient write privileges, commonly encountered with Vista.

Several other minor tweaks and fixes.
Download:
http://download.whereisit-soft.com/where383.zip
http://download1.whereisit-soft.com/where383.zip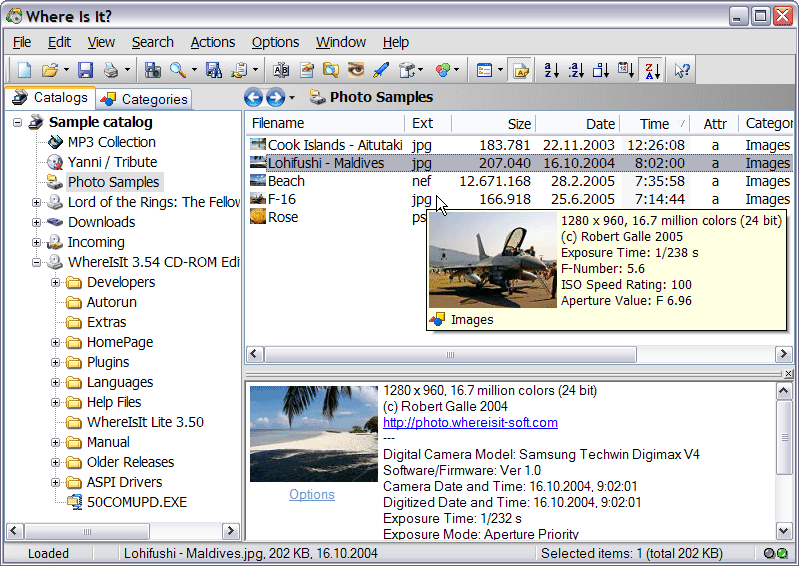 Attachment (1)

< Message edited by cadoo -- 2/21/2007 6:50:57 PM >

_____________________________



http://www.cdrinfo.com/